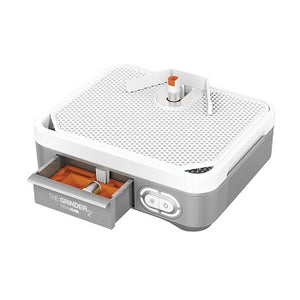 Three Rivers Art Glass
Techniglass
The Grinder 2
The Grinder 2, a smaller version of The Grinder, boasts a powerful, whisper-quiet motor, but in a smaller chassis with an 11 x 9.5 in. work surface.
Designed for space saving efficiency and exemplary performance, The Grinder 2 is an advanced tool for professionals, hobbyists and classroom settings of limited space. Supported by a super quiet, powerful motor boasting a torque of 57 oz/in at 4500 RPM; Vibration Dampening Technology absorbs shock and provides added stability to maintain an extremely whisper quiet operation.

Techniglass's innovative Lumishield2 LED light, the Guard2 splash curtain, and the MiniG elevated work surface are offered separately as optional items.
The Grinder 2 uses 24X less electricity than other grinders.